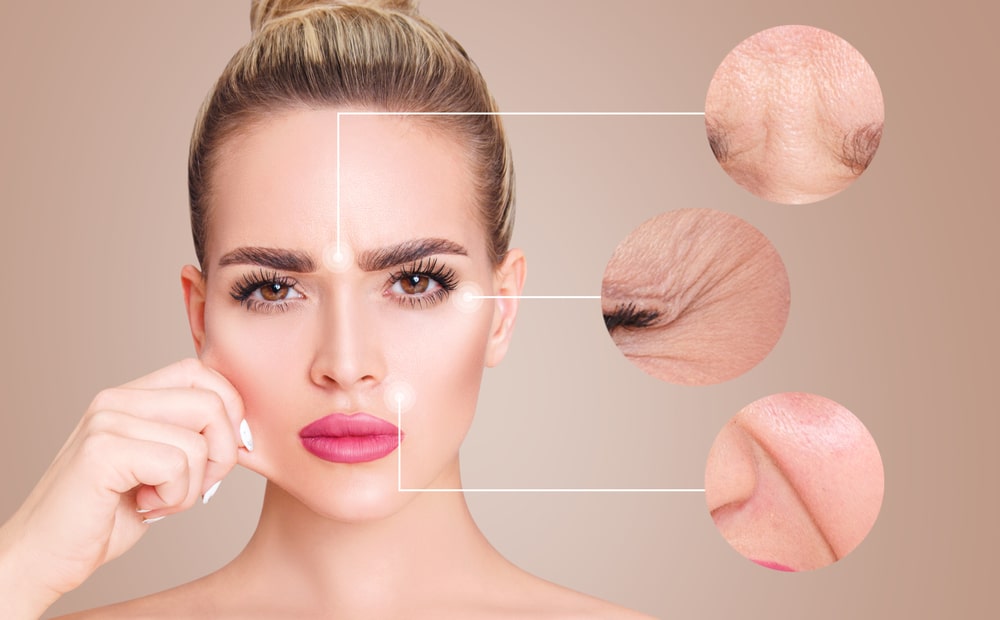 Anti-aging skin care: 7 ways to fight aging skin
Since ancient times, humans have strived to look younger than their age. In the 19th century, the list of cosmetic procedures and care products was very limited but today, the possibilities of cosmetology are endless. Now it is possible to get rid of wrinkles and tighten the skin without plastic surgery. We can choose high-quality cosmetics for anti-aging skin care, as well as seek help from cosmetologists who will carry out a number of procedures aimed at rejuvenating the skin. It's very important to properly care for the skin at different ages.
Signs of aging
The skin loses elasticity
The complexion becomes duller
The appearance of wrinkles
The sensitivity increases
Noticeable puffiness
The contours of the face lose their clarity
The corners of the lips and eyes drop
This, of course, happens gradually. Changes accumulate, and as a result, the reflection in the mirror ceases to please us. Anti-aging facials help correct the signs of aging.
Basic principles of anti-aging skin care in your 30s
The first signs of aging are visible to the naked eye by the age of 30-35, although oxidative processes in cells begin a little earlier. According to studies, starting from puberty, the human body loses about 1% of collagen per year, therefore, if this deficiency is not replenished, then by the age of 30 its shortage becomes apparent and is displayed on the skin. Closer to the age of 30, skin elasticity decreases significantly, regeneration decreases, mimic wrinkles and nasolabial folds become noticeable. With proper care, all this can be somewhat slowed down, prolonging youth.
Makeup should be removed as gently as possible, avoiding friction and stretching. As a make-up remover, hydrophilic oils, micellar water, and milk are suitable. Avoid alcohol and other skin-drying ingredients.
Due to the decrease in moisture levels, the skin after 30s becomes vulnerable and fragile, therefore, in order not to lose moisture, replace the usual washing gel with a light foam. It thoroughly cleanses the skin but does not cause a feeling of tightness and dryness.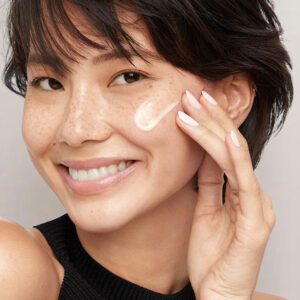 Skin exfoliation after the 30s is also a must. It is designed to remove dead skin cells, cleanse pores, improve microcirculation and improve skin tone. Do not use aggressive products with large abrasive particles, they may be too aggressive. Give preference to gommages or acid peels.
After the 30s, it is important to regularly moisturize the skin. Moreover, one cream will not be enough, here you will need additional nourishment in the form of serum. Look for peptides, collagen, hyaluronic acid, and vitamins in the compositions. They not only moisturize the epidermis qualitatively but also improve the condition of the skin.
Pay attention not only to the skin of the face, but also to the décolleté, neck, and around the eyes. For the care of the neck and décolleté, the products that you use for facial care are suitable. But keep in mind that the products should not contain retinoids or acids, since the neck and décolleté areas are extremely sensitive. For the skin around the eyes, choose special eye creams.
It is important to give preference to products that stimulate the production of collagen and elastin, so look for the following compositions: collagen, peptides, growth factors, phytoestrogens, ceramides, vegetable oils, etc.
Also, it is important to stimulate microcirculation and enhance cell regeneration: retinoids, seaweed, and acids are great for this. Just remember that these components are not suitable for sensitive and thin skin.
How to care for your skin after your 40s?
Starting from the age of 40, the female body undergoes hormonal changes, the layers of the dermis become thinner, the function of the sebaceous glands decreases by almost 3 times, and the regeneration processes slow down significantly. Dryness and peeling begin to appear, elasticity decreases, creases appear in the zone of nasolabial folds and crow's feet, and the oval of the face loses its clear contours. To maintain youthfulness and elasticity of the skin at the age of 40, it is important to properly care for it.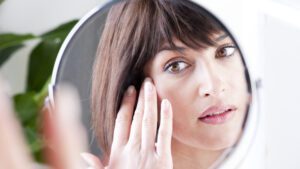 Washing should be carried out with filtered, mineral, or distilled water using a light foam, emulsion, or milk. To regain turgor, density, and elasticity, use tonics, lotions, and serums. Moisturizing should be morning and evening – for this, you need to keep two products on the shelf: day and night cream. Be sure to take care of the skin around the eyes, apply special products that do not contain aggressive components, and maintain nutrition and moisture.
In addition to moisturizing during anti-aging care, the skin needs nourishment as well. It is produced using creams, masks and serums, which additionally have a lifting effect. Also, remember to protect your skin from the sun with the help of SPF. For the zone of nasolabial folds, where wrinkles begin to appear clearly after 40 years, it is important to use a high-quality anti-aging cream and massage the area. If wrinkles and creases are strongly expressed, you will need an "expert touch": you can reduce and completely get rid of wrinkles with the help of fillers.
Anti-aging care after the 50s and 60s
Aging skin, which is the skin after 50 years, requires increased attention. An ordinary mask and cream are indispensable here, and complex anti-aging care is important, as well as a regular trip to an aesthetician (preferably at least once every 2 months). In the 50s, a woman will enter a period of maturity, during which the hormonal restructuring of the whole body begins. Changes in the hormonal background affect the appearance and condition of the skin, which is why it is so important to carefully care for the face.
After the 60s, the skin, as a rule, is not subject to hormonal changes, allergic reactions, rashes, or excessive oiliness, but wrinkles become more noticeable, the oval of the face floats, and flabbiness appears. During this period, anti-aging care should be as gentle as possible, without aggressive and skin-drying ingredients.
At the age of 50, cosmetologists recommend giving up visiting the solarium and minimizing the time spent under the sun, you should also not abuse caffeinated drinks, or wash your face with aggressive products (especially soap).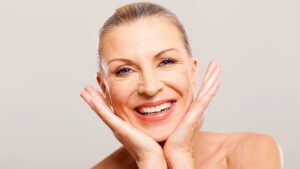 When choosing cosmetics, look for one that is designed for aging skin, preferably marked 50+. For cleansing, you should use several products at once: foam, milk, contrast washes, and steam baths. After washing, it will not be superfluous to wipe the skin with an ice cube: the cold tones the skin, strengthens blood vessels and slightly smoothes wrinkles.
Be sure to make masks with a tightening and smoothing effect: they have a good effect on the general condition of the skin, help smooth wrinkles, and additionally nourish the skin. It is also important to approach nutrition with special care: it should be regular. Serums, concentrates, ampoules, and rich creams will come to the rescue. Like other aging skin, skin after 50 and 60 years of age requires care for the area around the eyes. The cream in this area is applied with light patting movements, without stretching.
Do not ignore peels, the purpose of which is to exfoliate dead skin cells, even out the skin tone, eliminate pigmentation (it is often found in women over 50), start renewal processes, and smooth out fine wrinkles.
Anti-aging skin care treatments
As a rule, anti-aging treatments are intended for people over 30 years of age. It is at this age that clear signs of aging can be seen. There are a fairly large number of procedures that will help push back the natural aging process and rejuvenate the skin. The most popular and effective include:
Since its FDA approval in 2002, Botox has been one of the most well-known cosmetic injectables and anti-aging weapons used today. It relaxes forehead lines, Crow's feet, and other facial signs of growing older. "The other Botox," as it is sometimes referred to, is Dysport. Since it entered the cosmetic world in 2009, it has been used for the same purposes as Botox and is also an effective wrinkle treatment.
They are neuromodulators, meaning they soften skin creases and reduce facial muscle contractions. They help smoothen the lines that appear as a result of smiling, frowning, or squinting.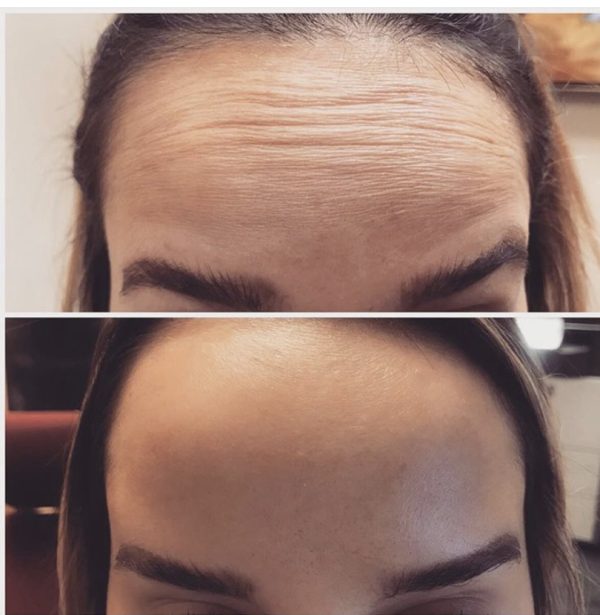 Microneedling is a minimally invasive anti-aging treatment. Reduces fine lines and wrinkles, age spots, stretch marks, hyperpigmentation, acne scarring, and rough skin tone and texture.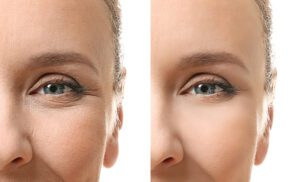 Microneedle treatments have been shown to increase skin thickness and raise collagen and elastin levels, thus reversing some of the effects of aging.
As we age, there is a natural decrease in the production of collagen and hyaluronic acid, which is why wrinkles and a loss of facial volume occur. Our skin begins to appear less youthful as fine lines and wrinkles take up permanent residence.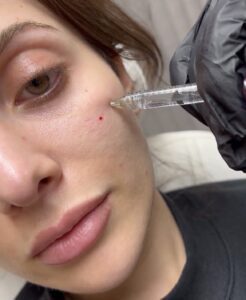 When combined with other factors like sun damage, hormonal changes, and gravity, those imperfections can become more apparent. Dermal fillers can be the anti-aging solution to address these concerns.
A PDO thread lift mechanically results in instant skin lifting.  It contracts fat tissue to result in instant skin tightening. It promotes collagen production and neovascularization to renew your skin at the cellular level. All of this works together to give you enhanced skin texture, fewer fine lines and wrinkles, and more elastic skin.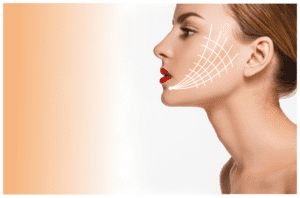 The most common reason patients get chemical peels is to reduce fine lines and wrinkles that appear due to aging. The peel can be applied to the face, neck, or hands. For a superficial chemical peel, a chemical solution is applied to the skin that causes it to blister. Eventually, the outermost layer peels away, and the dull outer layer is replenished with the smoother, more youthful skin below.
A medium chemical peel can also help reduce or remove age spots, freckles, and dark patches to even out the pigmentation of your skin.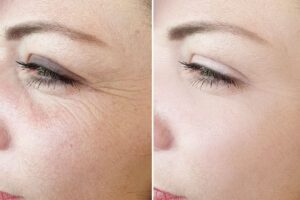 Morpheus8 is a device that combines microneedling with radiofrequency technology for fractional resurfacing that stimulates collagen production. By targeting the deeper layers of the skin, the building blocks will reorganize themselves in a natural anti-aging process. There is little to no damage to the dermis and this procedure provides an extremely uniform effect.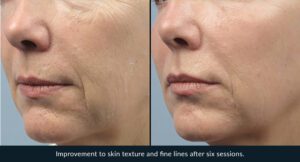 Sculptra is commonly used to address the underlying cause of aging and correct mild to severe facial wrinkles. It is a beautiful and effective way to stimulate collagen production globally to the face whereas fillers traditionally treat localized areas.
Unlike traditional collagen stimulators that are used topically and are too large to penetrate the dermis, Sculptra works within the deep dermis to revitalize collagen production.