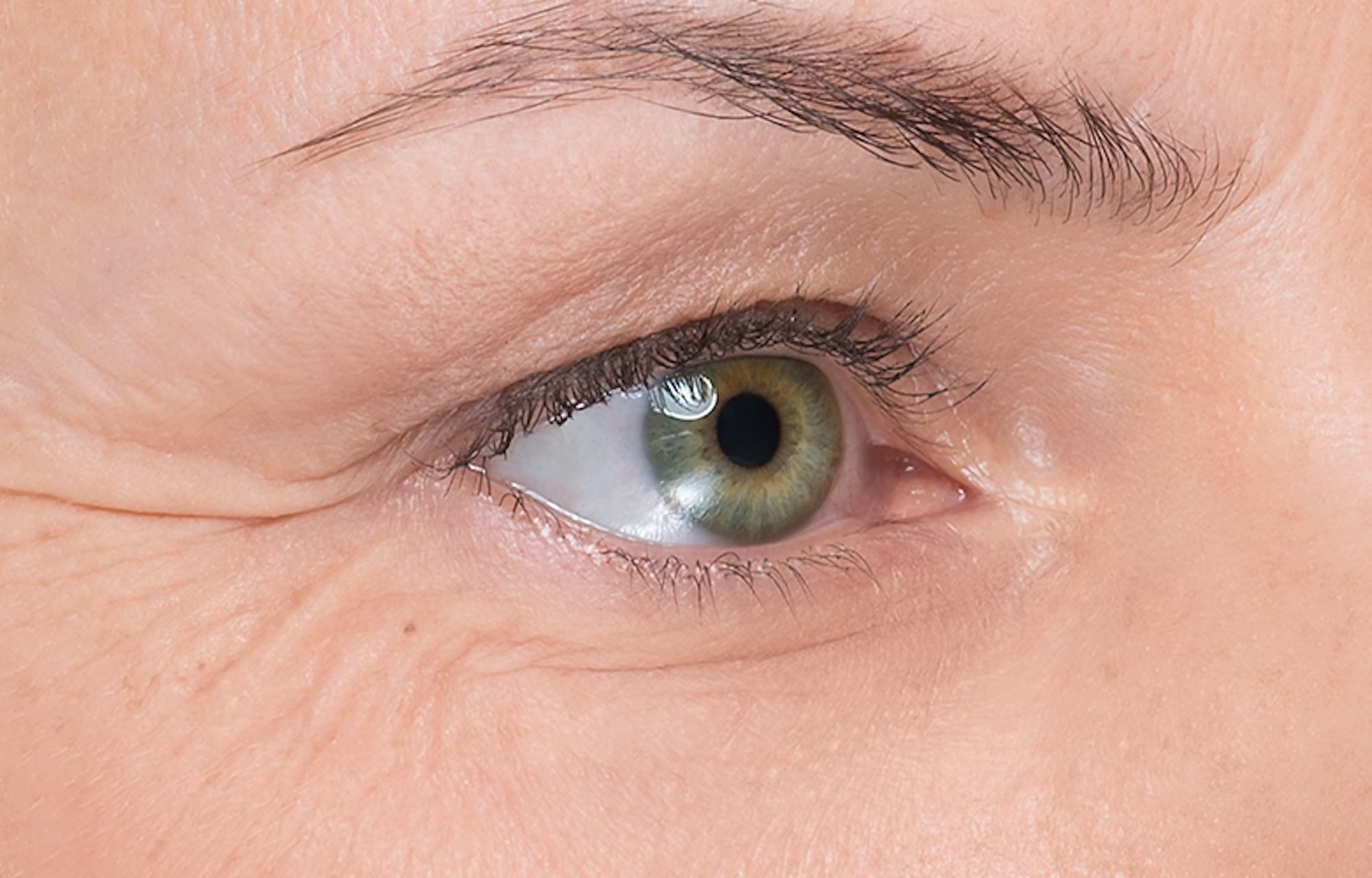 5 best treatments to get rid of crow's feet
Crow's feet is the common name given to wrinkles that appear at the side of the eyes, stretching out towards the temples. The skin around the eyes is 40% thinner than in other areas of our face, making it more delicate. Most people start to show the first symptoms of aging in this area. Crow's feet and wrinkles around the eyes are prominent worries associated with aging even though this is normal.
There are methods to lessen their visibility and treatments to aid in their reduction. Avoiding the sun and living a healthy lifestyle can provide protection. Your skin gradually changes as you age. The sensitive region around the eyes is one of the facial features that age more quickly than other areas. Crow's feet develop over time because of tiny muscle contractions that happen every time you make a facial expression.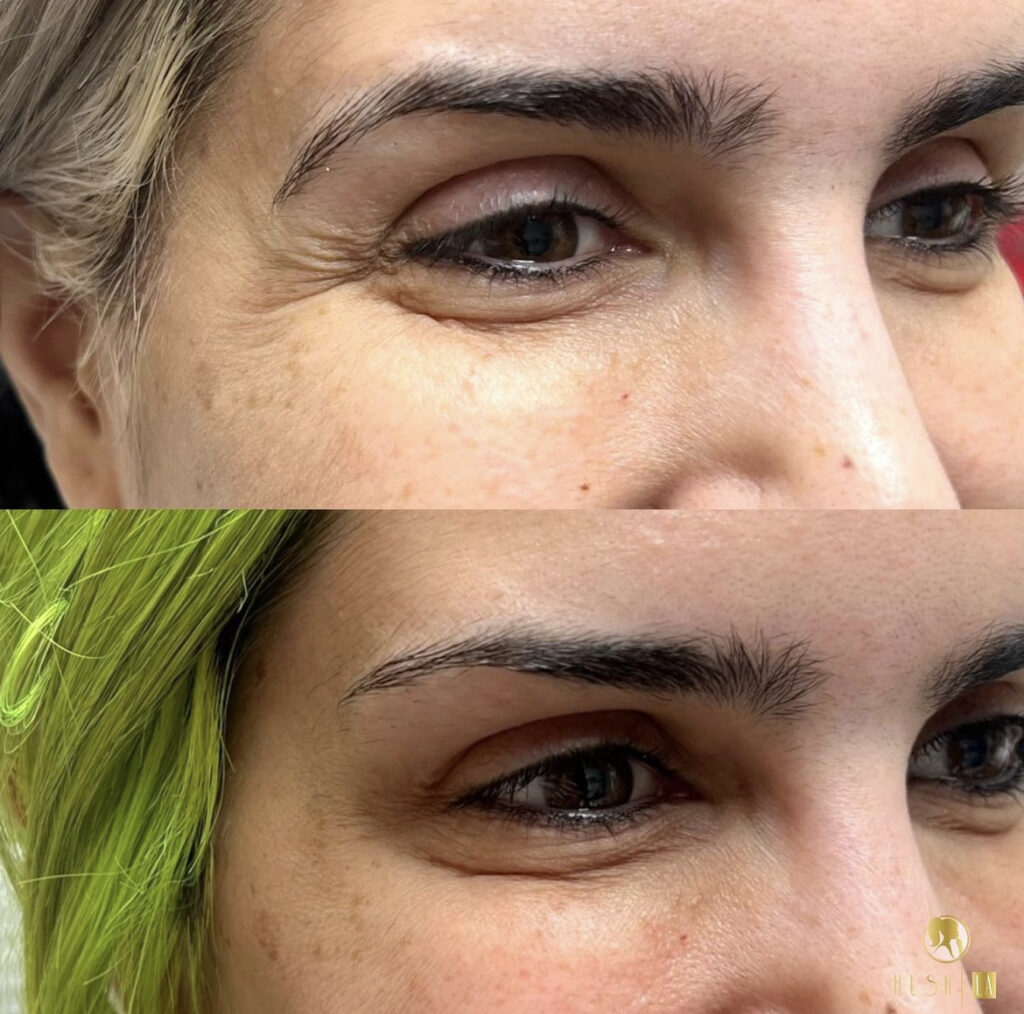 There are two different types of crow's feet wrinkles: dynamic and static. The wrinkles known as "dynamic wrinkles" appear as a muscle contract. If you can only see your crow's feet when you smile, they are probably dynamic.
Static wrinkles are always noticeable even when the face is at rest, although they may get worse with muscular tension.
Regardless of the kind of crow's feet you have, there are treatment options available for you. In some people, the signs of crow's feet can be completely reversed, at least temporarily.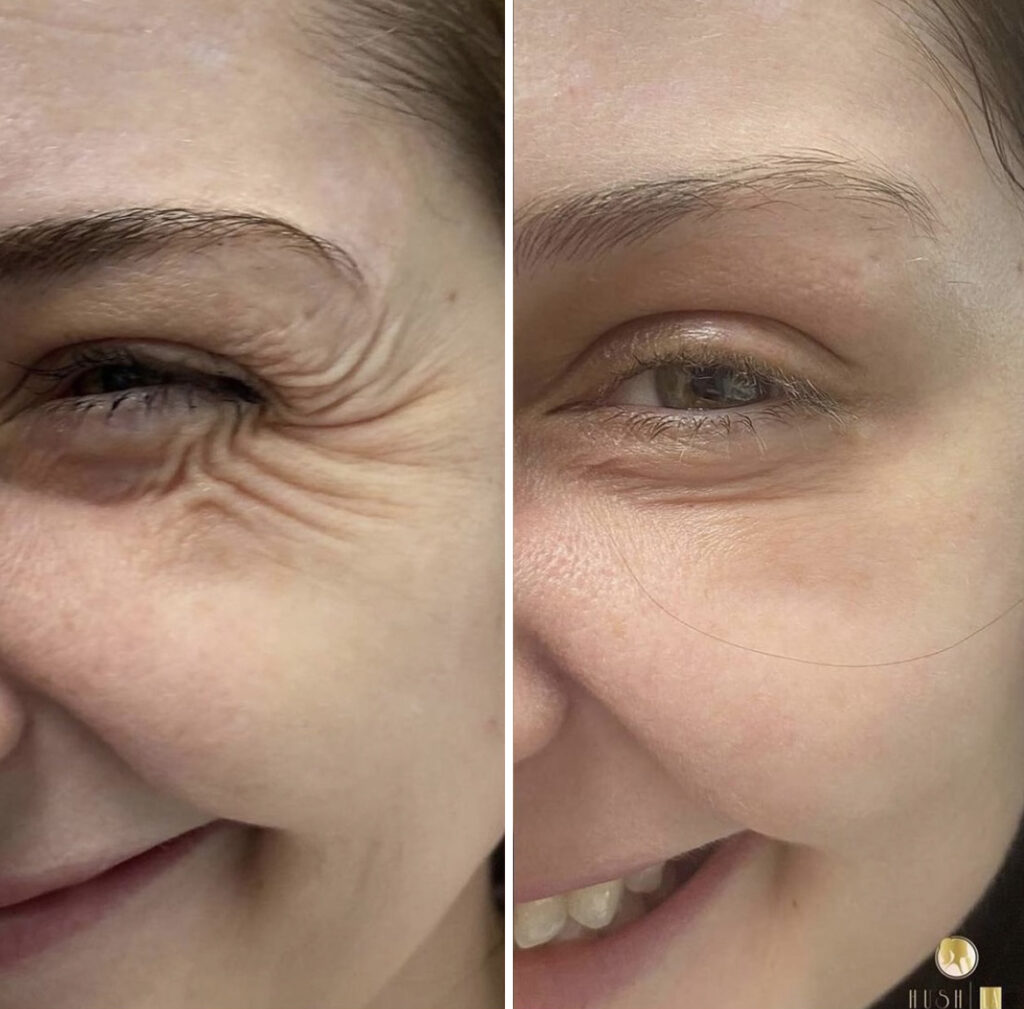 Your facial muscles contract anytime you move them, whether you're smiling, frowning, squinting, or focusing.  Lines and wrinkles around the corners of your eyes start to appear after years of repeated contraction paired with environmental and lifestyle variables, such as exposure to sunlight, smoking, or pollution. As the skin is thinner and more prone to creasing, the eyes are frequently the first area to show indications of aging.
A reduction in the quantity of collagen and elastin in the skin is the primary cause of crow's feet. These proteins are responsible for our skin's elasticity, but production drops as we age.
5 best treatments to remove crow's feet
Daxxify is an injectable treatment for wrinkles and crow's feet. Like other neurotoxins, Daxxify offers a range of benefits that make it popular in aesthetic practices. Some of the most important benefits of this injectable include the following: it targets the glabellar complex, relaxes the muscles that generate worry lines, crow's feet, and forehead wrinkles giving you natural-looking improvements that last up to nine months at a time.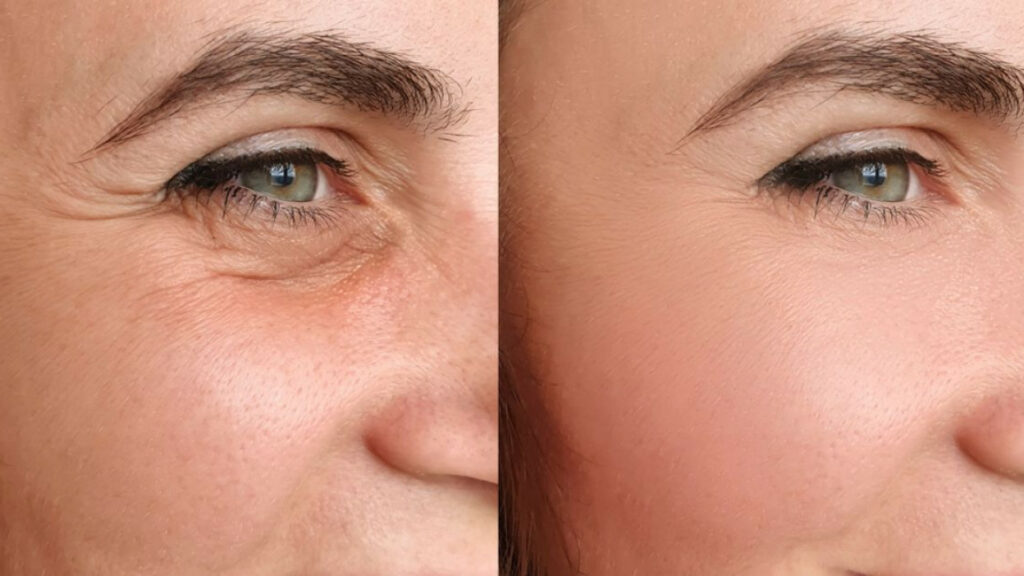 Daxxify is a neuromodulator that prevents your muscles from receiving the signal from your neurons that would otherwise force them to contract.  The muscle contracts less after being injected, which reduces the wrinkles and prolongs the smoother, more youthful appearance of your face. Daxxify can last up to twice as long as other toxins. A Daxxify treatment can be administered in less than 20 minutes.
Those at a higher risk for bruising at the injection site should avoid taking blood thinners, such as aspirin or nonsteroidal anti-inflammatory medications.
In addition to frown lines, Daxxify can be used to reduce sweating in the armpits, and palms, and can treat crow's feet. Unlike other neuromodulators, Daxxify is free of animal-based additives.
Botox is one of the best treatments to eliminate crow's feet and make your facial skin smooth and plump again. Botox treatment is a non-invasive and effective method of reviving your youthful look, giving you a radiant complexion and enhanced self-confidence.
A non-invasive and efficient way to restore your young appearance, a glowing complexion, and increased self-confidence is with Botox treatment.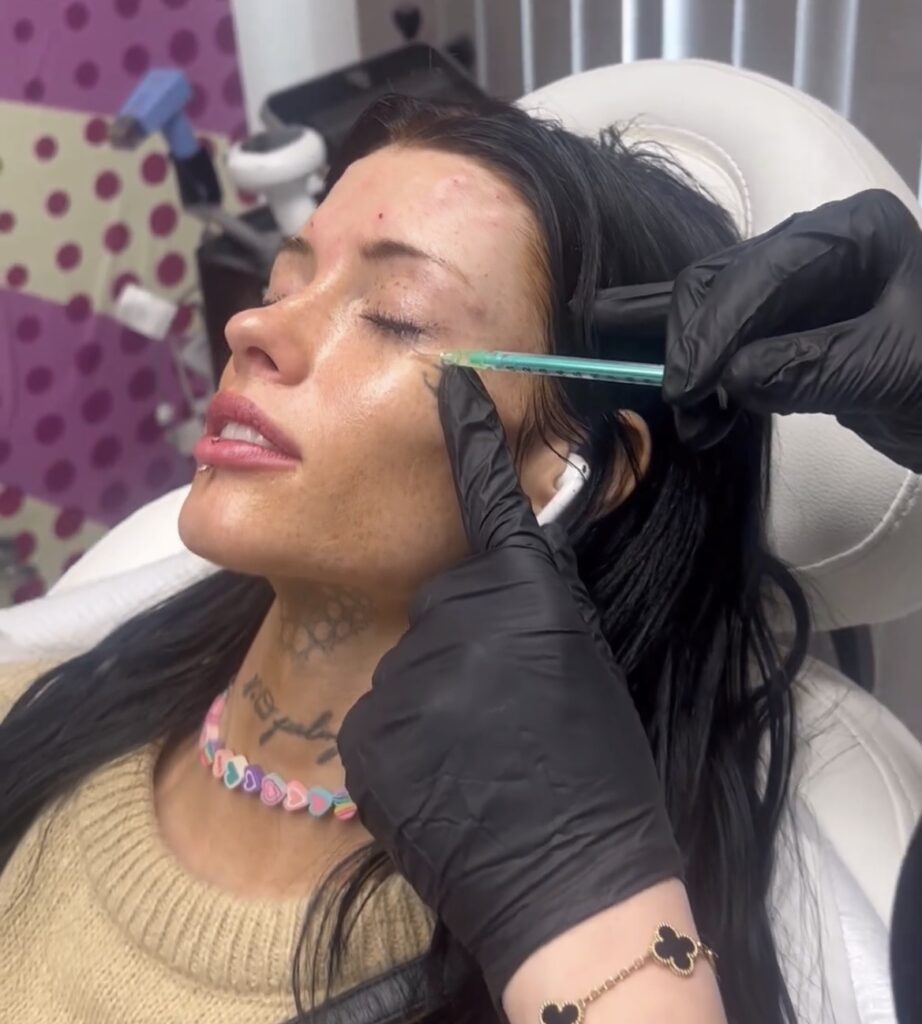 The loss of collagen in the delicate periorbital skin (the skin around the eyes) is believed to be the cause of the formation of crow's feet.
Botulinum toxin injections inhibit tightness and relax the muscles around the corners of the eyes. Most people notice evident smoothness in the overlying skin a few days after Botox treatment.
There are different types of toxins used for managing skin conditions. According to a double-blinded and randomized study, botulinum toxin type A is safe and efficacious in reducing the intensity of crow's feet. Prabotulinumtoxin A and botulinum toxin A are types of botulinum toxin that are safe for treating crow's feet.
3. Dysport for Crow's Feet
Dysport is a unique neuromodulator with a botulinum toxin formula. Botulinum is the same neurotoxin used in BOTOX.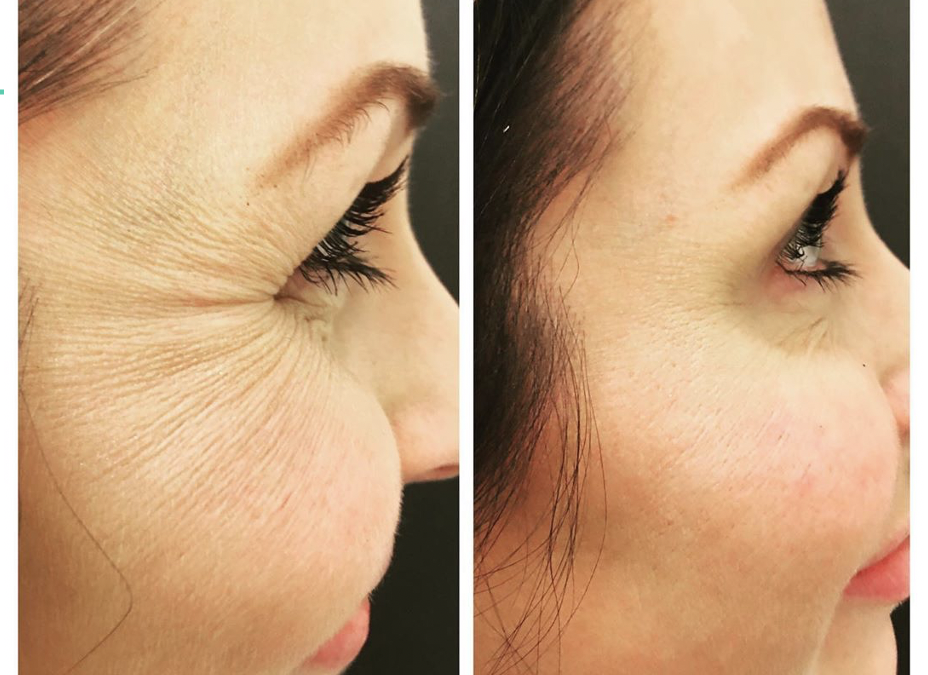 According to studies, Dysport is particularly effective at reducing the visibility of glabella wrinkles, often known as the vertical lines between your eyebrows, and crow's feet.
Dysport is an injection that decreases the activation of certain facial muscles. Given that crow's feet are largely caused by repetitive facial muscle contractions, this effect helps keep the skin around the eyes smooth. However, with Dysport's singular formula, you'll still be able to make natural facial expressions.
The Dysport injections will only take your doctor 10 to 20 minutes to complete. After treatment, there is no recovery period necessary, and the effects start to show in three days. The effects of Dysport last for approximately four months.
Dysport offers the best of both worlds – a smooth, youthful-looking eye area with natural facial expressions.
A slightly more intensive way to treat crow's feet is through the use of chemical peels, which are treatments that essentially peel off the top layer of skin from your face. After the procedure, the damaged skin becomes red and starts to peel off, exposing brand-new skin beneath. Your skin will be left baby-smooth, and doing this will help to lessen blemishes and wrinkles.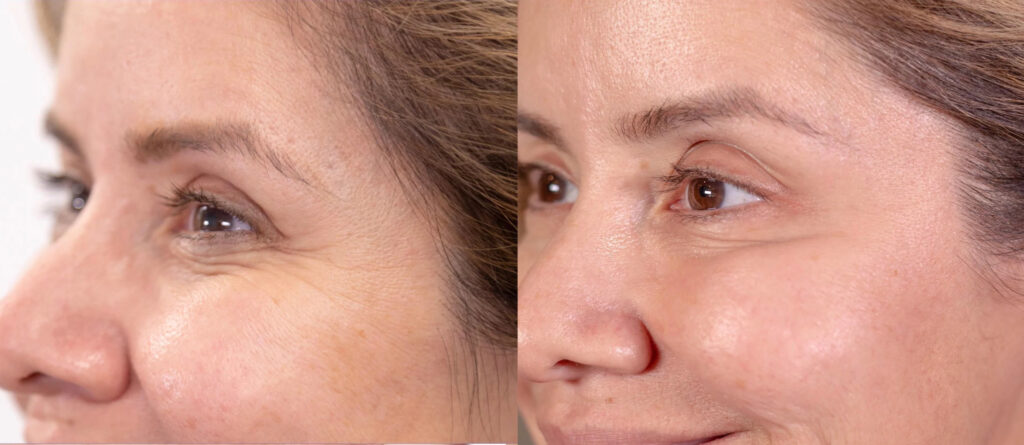 After chemical peels, it is possible to resume one's normal activities almost immediately, although you should definitely wear sunscreen to protect your freshly peeled skin. A deep chemical peel reduces crow's feet, while the technique can also be carried out at medium and light depths. Depending on the degree of the peel, chemical peels can last anywhere from a month up to many years.
5. Dermal Fillers for Crow's feet
FDA-approved dermal fillers are very successful in treating crow's feet in addition to other signs of aging. Injected into the outer eye area with a tiny needle, these "soft tissue fillers" include treatments like the following, which work well for static wrinkles: Juvéderm, Voluma, and Restylane.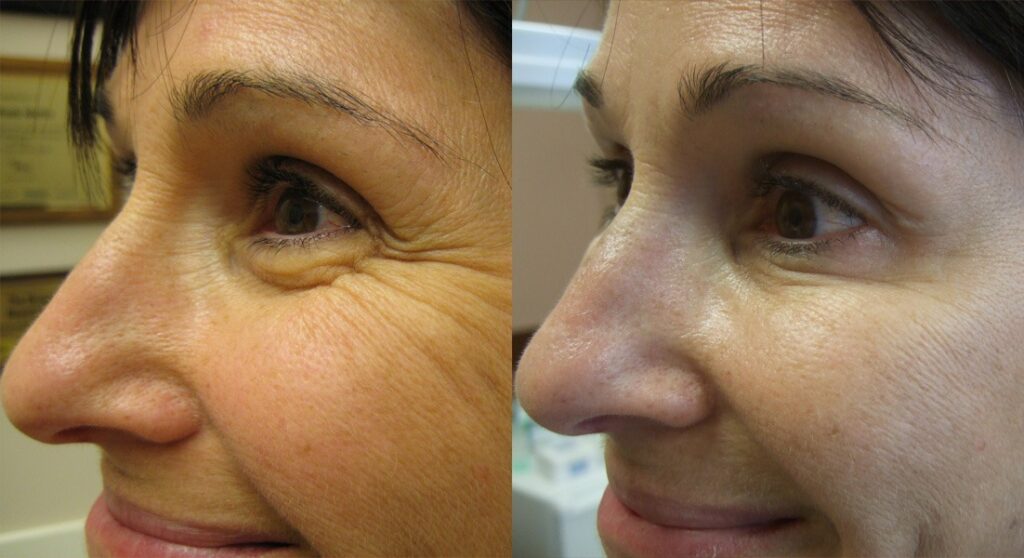 Each varies in how long results last based on their ingredients – but dermal fillers can keep crow's feet at bay for three to twelve months or more.