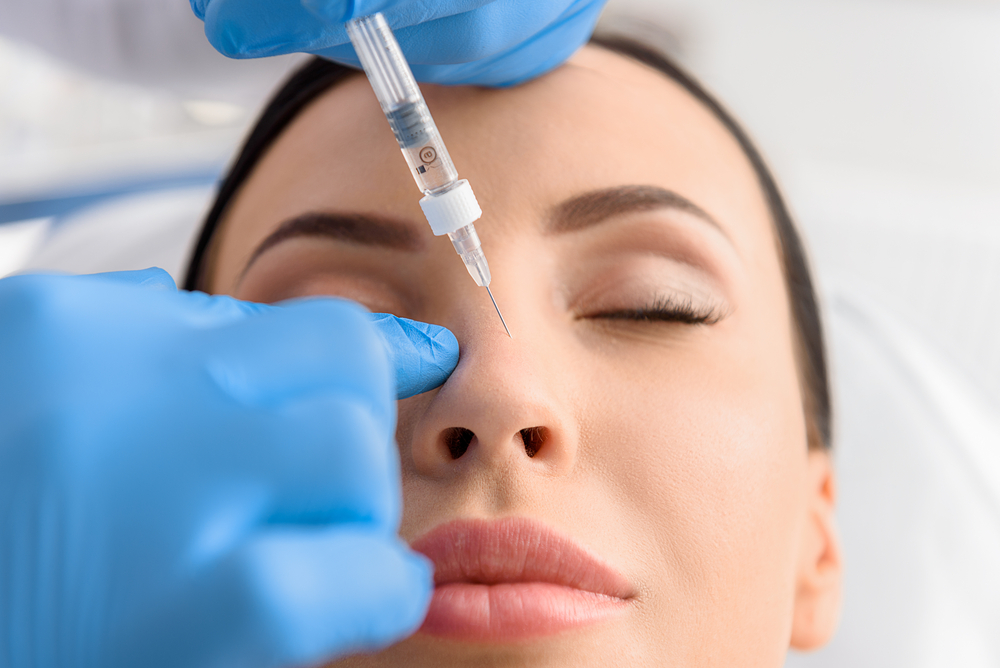 Non-surgical nose job with dermal fillers
The idea that you may be able to get a new nose without surgery has been circulating everywhere lately. Sometimes called a "liquid nose job", non-surgical nose reshaping involves the strategic use of injectable fillers to improve nasal contours. Non-surgical rhinoplasty is a cosmetic procedure that temporarily changes the shape of your nose using dermal fillers.
A non-surgical nose job is actually a dermal filler procedure that changes the shape of your nose for up to 6-12 months. This procedure corrects bumps, asymmetries, and deficiencies with simple injections of hyaluronic acid (HA)-based dermal fillers, such as Restylane and Juvederm.
The procedure is ideal for people who are looking to smooth out bumps in their nose or make it look less angular but who aren't ready for a permanent solution, or are worried about the risks and recovery time involved in a traditional rhinoplasty.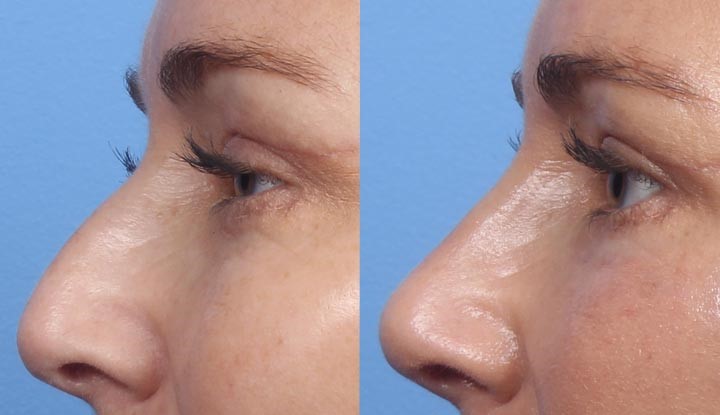 Changing the shape of the nose with fillers
Correction of cosmetic defects with the help of fillers is one of the most popular treatments of non-surgical rhinoplasty. The essence of the technique is as follows. Dermal fillers are injected into the area of concern, most often the back and wings of the nose, which add volume, and change the shape and contours, thereby compensating or camouflaging the aesthetic flaw.
Are dermal fillers always a good alternative to rhinoplasty?
It is important to understand that fillers are limited in what they can achieve with nasal contouring and are not effective for every issue. For example, to straighten a very large bump or reduce the overall size of the nose, a surgical rhinoplasty would be most appropriate.
Non-surgical nose job effectively solves most of the aesthetic imperfections of the nose but does not solve problems associated with respiratory failure, or shortening a very large nose. Dermal fillers also can be useful for making adjustments to a prior rhinoplasty, either to correct minor flaws that don't call for a secondary surgery or to enhance the results.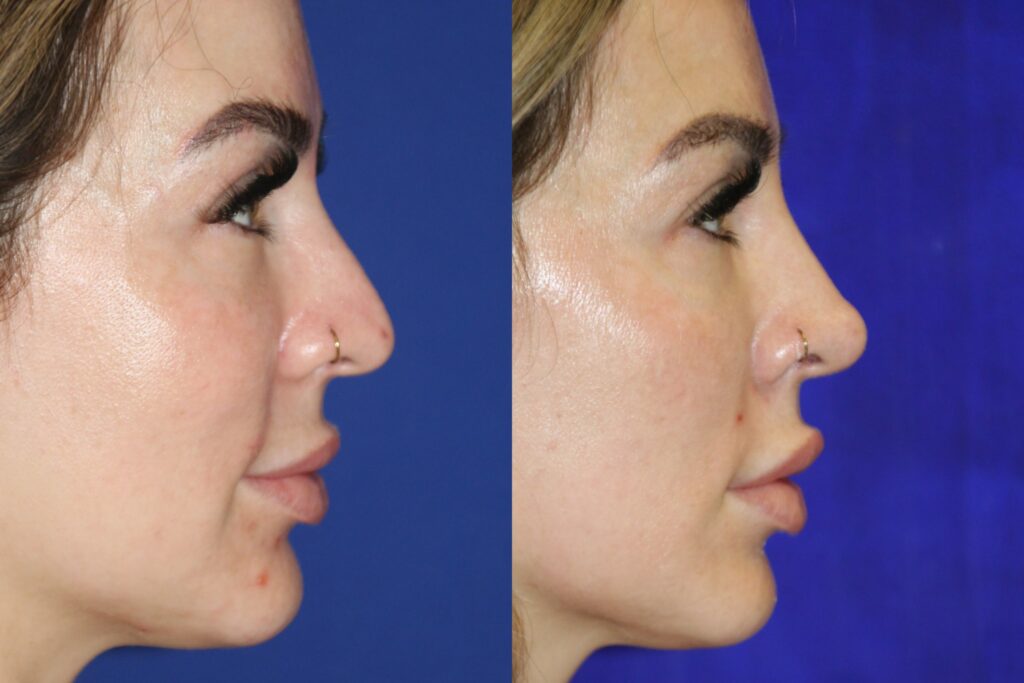 Can a non-surgical nose job do what surgery does?
Compared to traditional rhinoplasty, a non-surgical nose job has limitations. For example, with nonsurgical rhinoplasty, your nose can't be made smaller and results only last up to six months. But dermal fillers can temporarily smooth bumps and modify certain characteristics.
A non-surgical nasal job may be right for you if you want to:
Add volume to your nose.
Enhance the tip of your nose.
Smooth out lumps or bumps.
Camouflage a bump on the bridge of your nose.
Straighten a slightly crooked nose.
Non-surgical nose jobs are an excellent way to make minor changes to your nose or discover how certain modifications may look. However, if you're looking for dramatic, long-lasting changes, you may be better suited for traditional rhinoplasty.
How does it work?
Non-surgical nose job uses dermal filler ingredients to change the shape of your nose.
A gel-like injectable ingredient (usually hyaluronic acid) is inserted underneath your skin in the areas where you wish to create smoother lines or volume. Sometimes Botox is also used.
The filler ingredient settles into where it's injected in your deeper skin layers and holds its shape. This can change the look of your nose for anywhere from 4 months to 3 years, depending on your skin, your desired results, and the ingredient used.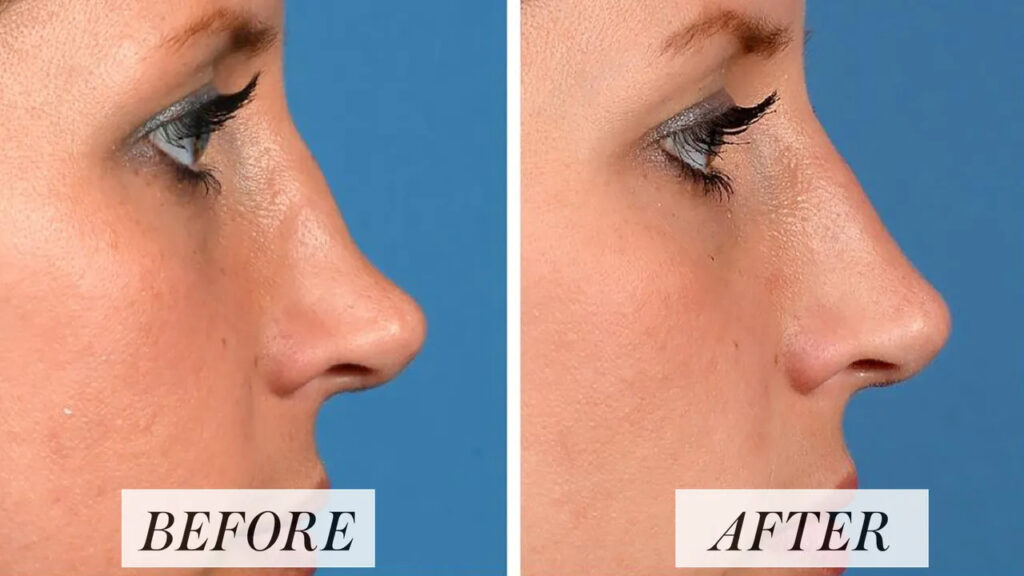 Benefits of nonsurgical rhinoplasty.
Many people elect to undergo a nonsurgical nose job to smooth a hump on the nasal bridge and correct other subtle asymmetries in the nasal shape.
This is a non-invasive and non-surgical procedure.
There are no incision lines or stitches.
Faster recovery time compared to surgical rhinoplasty. Surgical rhinoplasty involves 1-2 weeks of recovery. Recovery after a non-surgical nasal job is typically minimal, with minor bruising and swelling, which can be concealed with makeup.
Immediate results
Non-surgical nose job results typically last 1-2 years. Adjustments to your non-surgical rhinoplasty are easily performed with dermal fillers. This is not the case for surgical rhinoplasty, as revisions are complicated.
If you are not a candidate for a surgical rhinoplasty due to medical conditions, non-surgical rhinoplasty may be a great option for you.

Take away
Non-surgical nose job is a cosmetic procedure that involves injecting dermal fillers into the nose. It can create mild or moderate changes to the nose shape. The procedure is relatively quick, involves little downtime, and does not require a general anesthetic. However, unlike a surgical rhinoplasty, the results are temporary.
There is a small chance of complications from this procedure, some of which are serious. For this reason, it is essential for people to only get cosmetic fillers from a reputable medical professional.