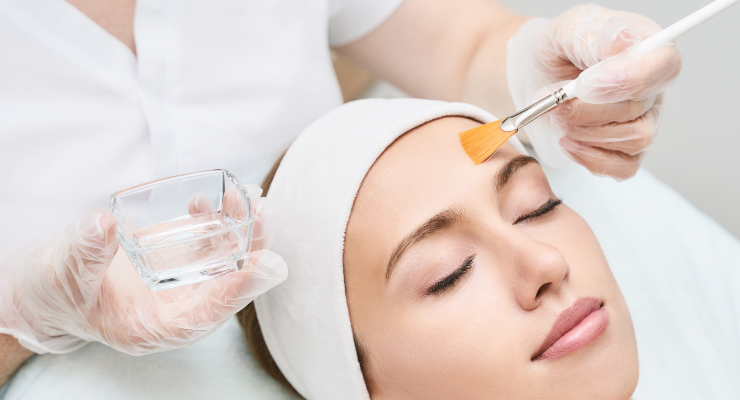 Chemical peels control the damaged skin via chemical formulations to correct aesthetic imperfections. The procedure allows you to solve a wide range of problems – eliminate acne and scars, wrinkles, age spots and other age-related changes.
Chemical peel treatment Benefits
How does a chemical peel work?
Smooths the skin
Balances the texture
Lifts skin
Treats acne
Minimizes pores
Erases fine lines and wrinkles
Fades discoloration
Sooths scaring
The cells of the epidermis dissolve upon contact with the components of the peeling composition. Chemical acids stimulate enzyme growth factors and dermal fibroblasts, which promote the synthesis of collagen and glycosaminoglycan.
A chemical peel (chemexfoliation or dermapeeling) uses a chemical solution to improve the appearance of the skin. A chemical solution applied to the skin causes trauma or injury to the skin's layers. The skin layers eventually peel off revealing more youthful skin. The new skin is usually smoother with fewer lines and wrinkles and has a more even color and brighter complexion.
Chemical Peel treatment Effects
As a result of the accelerated renewal of the epidermis, young cells with a high content of natural moisturizing factors are formed, as well as new vessels that deliver nutrients, and oxygen. A new collagen scaffold is formed.
The epidermis becomes thinner, and the dermis is smoothed, compacted, and thickened, becoming homogeneous. Sebaceous pores are cleansed, and the tone of the face is evened out. The skin is rejuvenated and looks elastic, youthful, and radiant.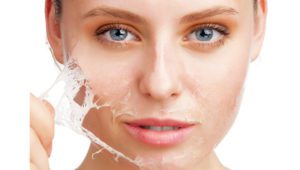 A chemical peel is a skin-resurfacing procedure. Depending on the issues you're addressing with the procedure, you'll choose a chemical peel in one of three depths:
Superficial (light chemical peel) – exposure within several keratinized layers of the epidermis. Recommended for young problematic skin, as well as in preparation for a deeper peel. The effect is short-term and requires frequent treatments. It's the gentlest procedure. It's a perfect choice for fine wrinkling, acne, uneven skin coloring, or dry, rough sun-damaged skin as it will help promote a healthy glow. Recovery from this type of peel may be within hours to a few days but with little to no downtime.
Medium chemical peel – A medium chemical peel removes skin cells from the epidermis and from portions of the upper part of your middle layer of skin (dermis). It's used to treat wrinkles, acne scars, and uneven skin tone. You might need to repeat the procedure to achieve or maintain the desired result.
Deep chemical peel – produces the most dramatic results. This chemical penetrates down to the lower middle layer of your skin. As a result, new skin with a modified structure is formed without signs of aging. It is carried out strictly according to indications for deep wrinkles and scars. Recovery time is longer with a deep peel. The effect lasts for several years.
Who Is a Good Candidate For a Chemical Peel?
Who is eligible for a chemical peel?
Generally, fair-skinned and light-haired patients are better candidates for chemical peels. If you have darker skin, you may also have good results, depending upon the type of problem being treated. But you also may be more likely to have an uneven skin tone after the procedure. Chemical peel treatments can be done for the following:
Complex skin with comedones, acne, post-acne;
Scars, ingrown hairs;
Oily skin with enlarged pores;
Thickening of the stratum corneum, uneven relief;
Dull skin color;
Dark spots;
Sagging, lack of elasticity and skin tone;
Photoaging due to intense UV radiation;
Folds, wrinkles, sagging, and other age-related changes.
Age 14 – as prescribed by a doctor;
Age 25-30 – acne, post-acne, age spots, photoaging, prevention of skin aging;
Age 35 and older – prevention and elimination of cosmetic defects, preparation for other cosmetic procedures.
Although the majority of patients are good candidates for chemical peels, chemical peels are not recommended for patients who:
Are nursing or pregnant
Have sunburnt skin
Have an open wound or sore
Have certain cancers or autoimmune diseases
Have taken Accutane (Isotretinoin) in the past six months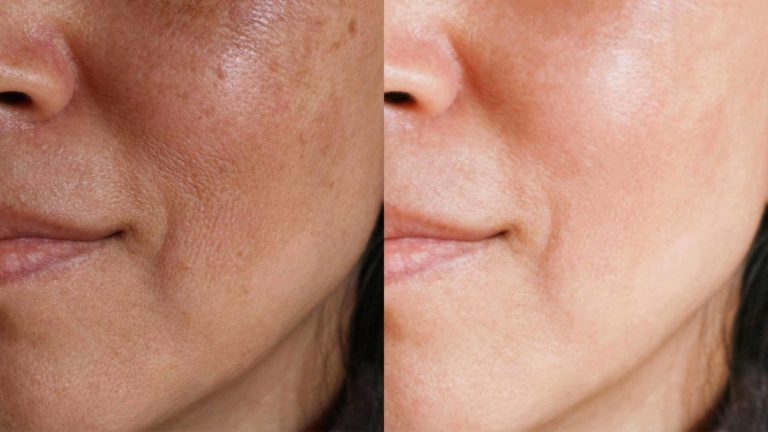 Chemical peel treatment aftercare
Pre-peel preparation. It is carried out in order to adapt the skin to the active and even out its surface layer for better penetration of the peeling composition. It is carried out 1-2 weeks before the procedure or immediately before the session.
The actual peeling. It is carried out according to the protocol, depending on the composition chosen by the cosmetologist.
Post-peel care. Helps to consolidate the results of the procedure and avoid complications.
The skin after chemical peeling is dehydrated, reddens and flakes, swelling is possible. The dead skin should not be forcibly removed.
For quick healing, use products that have panthenol. Post-peel care includes the use of cosmetics with sunscreens.