12 Benefits of Diamond Glow facial
Diamond Glow Facial is a popular skincare treatment that uses diamond-tipped wands to exfoliate the skin and clear out clogged pores. This procedure takes about an hour, including time for preparation and cleanup. The device exfoliates the skin, removes dead skin cells and dirt, and helps serums penetrate more deeply into the skin.
DiamondGlow also has a recommended post-treatment regimen to help improve the appearance of dark spots, hyperpigmentation, and fine lines and wrinkles.
Diamond Glow facial is considered a safe procedure for most people; however, some may want to speak with their doctor before getting this treatment.
How does Diamond Glow work?
DiamondGlow combines infrared light and diamond dust to create a unique healing experience. The device is safe, effective, and relaxing; you can use it on any part of your body.
Diamond Glow uses infrared light to treat some areas more effectively than others. Diamond dust is included in the treatment because it stimulates collagen production in the skin, which helps to improve blood flow, reduce inflammation and relieve pain by reducing swelling or puffiness caused by fluid retention (edema).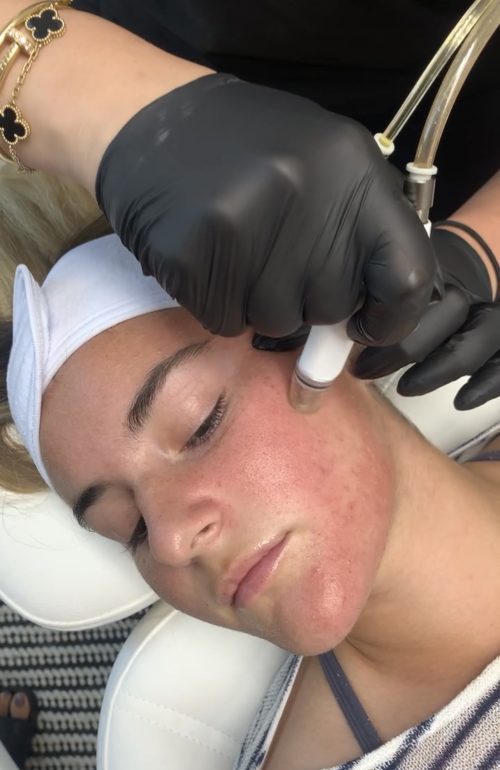 12 Benefits of Diamond Glow facial
Minimizes fine lines and wrinkles:
 If you're like most people, fine lines and wrinkles appear at a relatively early age. The Diamond Glow facial can help minimize the appearance of lines and wrinkles and slow the progression of additional age-related concerns to delay the need for more extensive procedures, such as a surgical facelift.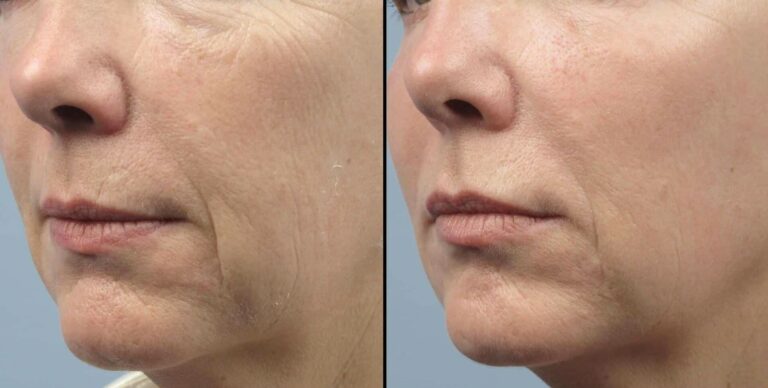 2. Treats Acne Scars:
The Diamond Glow Facial can also help treat scars from acne. It's especially effective in treating active acne when your skin becomes red and itchy right after you've started to break out. The treatment can also be used on scarred areas damaged by previous breakouts or other skin problems like eczema, psoriasis, and rosacea.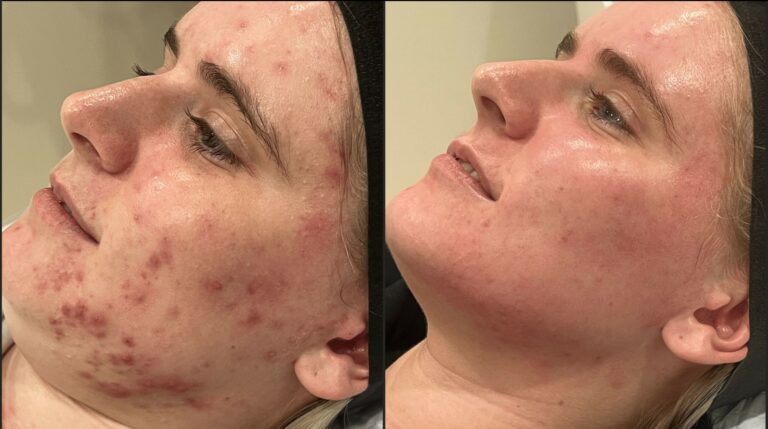 3. Evens out dark spots and discoloration:
 The Diamond Glow facial exfoliates the skin, gently removing the top layer of dirt, dead skin cells, and other debris. This also helps to even out the skin tone and reduce the appearance of dark spots, including hyperpigmentation, age spots, and sunspots.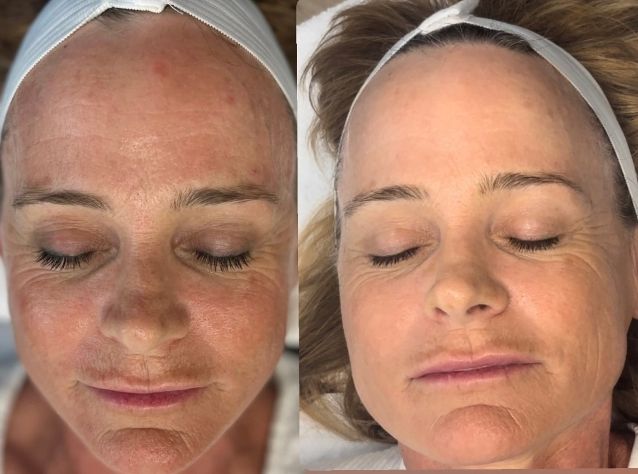 4. Unclogs pores:
Through diamond tip exfoliation and extraction, the Diamond Glow facial helps to cleanse clogged pores. Oftentimes, with repeat and consistent treatments, patients begin to notice their large pores decreasing in size.
5. Creates smoother skin texture:
 Rough patches, enlarged pores, and other imperfections can contribute to poor, uneven skin texture. By addressing a multitude of various concerns, including clogged or enlarged pores, debris, and dry skin, the Diamond Glow facial results in noticeably smoother skin.
6. Remove Dirt and Oil:
The Diamond Glow facial is a professional skincare treatment that uses a diamond-tipped wand to exfoliate the skin and clear out clogged pores. The diamond tip helps to remove dead skin cells. The wand helps to remove dirt and oil from the skin. The wand helps to penetrate serums more deeply into the skin by creating a vacuum effect that draws serums into your pores for maximum absorption. This device can be used on all skin types!
7. Usually pain-free:
The vast majority of patients report little to no discomfort during or after a Diamond Glow facial. With multiple settings to choose from, your expert technician can alter the treatment to fit your needs.
8. Little to no downtime:
Although the technology and serum formulas behind the DiamondGlow facial are powerful and effective, the treatment is gentle enough to produce results without damaging the skin. Depending on the strength and intensity of your treatment, you may have mild redness or irritation, but these side effects typically resolve quickly. In most cases, patients can return to their normal daily activities right after a DiamondGlow facial.
9. Completely customizable:
In addition to being able to precisely calibrate the DiamondGlow system, your provider will also select a custom-tailored menu of infusing serums to use during these treatments. The selection of products will be based on a careful evaluation of your skin, discussion about your concerns and goals, and other factors.
10. Immediate results:
Many patients notice that their skin is smoother, brighter, and healthier-looking almost immediately after a DiamondGlow facial.
11. Results can improve over time:
By undergoing repeat and consistent treatment with the Diamond Glow facial, men and women can maintain, enhance, and prolong their results. Typically, patients begin with 2 – 4 sessions spaced two weeks apart. This helps to boost their skin's health and appearance so that the treatments can then be performed less frequently with the results often continuing to improve with subsequent sessions.
12. Safe Procedure:
This is considered a safe procedure for most people. It can be done on all skin types, including sensitive and acne-prone skin because it does not use lasers or anesthetics.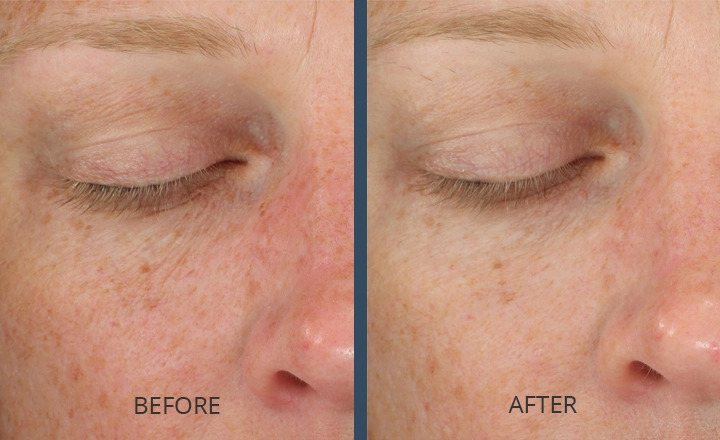 Instant Results and Long-Lasting Effects
The innovative Diamond Glow treatment delivers both immediate and progressive results in one single treatment. As one of the most advanced skin resurfacing treatments available today, DiamondGlow is also extremely gentle and leaves your skin instantly more radiant with no downtime required.
Side Effects
Diamond Glow facial treatments are powerful, yet extremely gentle and typically result in minimal side effects. The most common side effects include a tolerable stinging sensation during the treatment and temporary redness or slight swelling following the procedure. Serious side effects are rare but include severe skin irritations and allergic reactions. Make sure to consult with experts about any allergies, or topical medications that could affect you or interfere with your treatment.
Can I combine DiamondGlow with any other treatments?
Yes. Diamond Glow is a great add-on to other skin rejuvenation procedures such as laser treatments, ResurFX, and chemical peels. These treatments can help prepare the skin so your results are maximized and you see the best outcome possible from your treatments. Patients can also add injectables like Botox or fillers for more comprehensive enhancement.
Does Diamond Glow have any side effects?
Some patients report mild swelling or redness immediately following their DiamondGlow treatment, but these symptoms will subside gradually over several hours. Serious side effects include allergic reactions and skin irritation.
Does Diamond Glow facial really work?
Sure, there are a lot of methods that minimize fine lines and wrinkles, but Diamond Glow Facial does it in a non-invasive way. As it helps reduce the appearance of these skin issues, it also slows the progression of age-related concerns.
How long does a DiamondGlow treatment last?
Patients typically enjoy their DiamondGlow results for an average of 4 – 6 weeks before a repeat treatment may be needed.
Can I wash my face after DiamondGlow?
Washing your face immediately post-treatment is not necessary or recommended as it will wash away cosmetic serums infused by DiamondGlow®. Avoid exfoliating agents (retinoic acid, tretinoin, retinol, benzoyl peroxide, glycolic acid, salicylic acid, etc.) for 3 days after treatment.
Is Diamond Glow FDA approved?
Diamond Glow dermal infusions are non-invasive and FDA-approved.
Take away
DiamondGlow is a treatment that works to rid the body of excess toxins and harmful substances. It has been scientifically proven to work in clinical studies, so there's no reason not to try it.