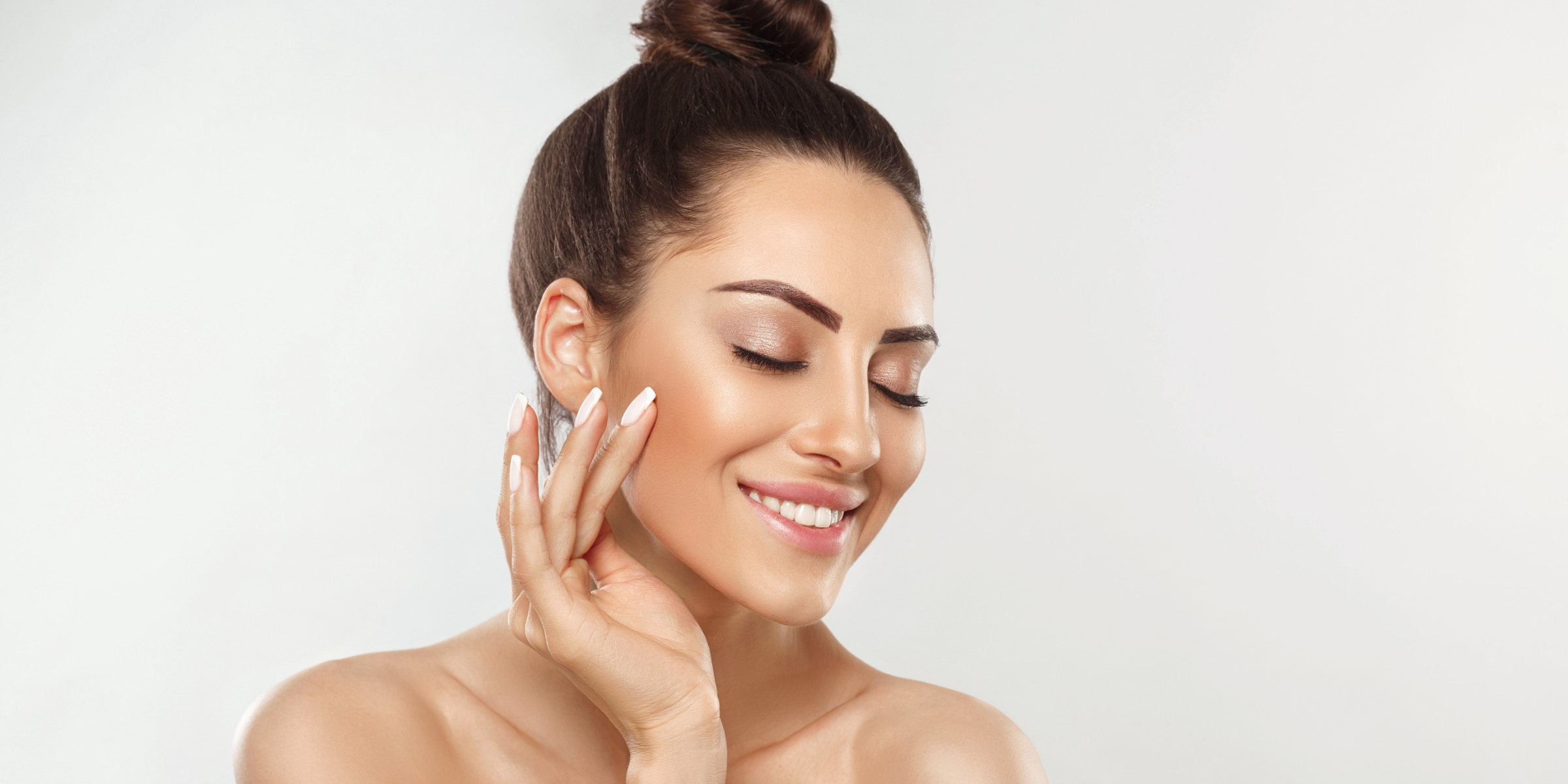 Lumecca IPL photofacial skin rejuvenation
Many people of all ages struggle with hyperpigmentation and skin redness, even if they don't spend a lot of time in the sun. If you've tried various solutions and haven't seen great results, it can be discouraging and hard to know where to turn. For those who want to see a visible difference in their skin's brightness and overall tone, Lumecca IPL photofacial may be the treatment you've been looking for.
What is Lumecca IPL photofacial?
Intense Pulsed Light or IPL is a kind of technology that works wonders on various types of skin issues. Photo-rejuvenation is one of its most common uses where skin pigmentation, thread veins, and sun damage are treated effectively. It is also known to work effectively on other vascular lesions, freckles, skin redness, and other skin issues. IPL photo-rejuvenation is often referred to as IPL photofacial.
Good to Know
Traditional laser treatment devices use only one laser beam and target individual areas of concern one at a time. IPL treatments, on the other hand, utilize technology with a broad spectrum of multiple light wavelengths for greater coverage and more effective surface color correction.
How does IPL photofacial work?
Lumecca is the most powerful IPL provider to treat pigmented skin and vascular lesions. Its advanced technology is able to provide results faster than any other IPL provider. It uses a special handpiece that is equipped with a xenon flash lamp to treat the areas effectively. Since it uses photothermolysis the photofacial treatment is comfortable. Depending on what needs to be treated, different lenses can be used over the Lumecca IPL. This makes the treatment very effective and precise.
Lumecca is an innovative IPL technology that aims at rejuvenation, evening out skin tone, removing vascular pathologies, age spots, and improving skin texture. Lumecca allows full photorejuvenation/correction of skin defects in just 1-2 procedures.
David and Victoria Beckham, Kim Kardashian, Kate Bosworth, and many other famous stars have been using Lumecca IPL photofacial for their skin treatments.
Lumecca is an innovative IPL technology for skin rejuvenation, skin discoloration, removal of vascular pathologies and pigment spots, as well as overall improvement of skin texture.
IPL works by interacting with the blood vessels in the skin, allowing red blood vessels to absorb light and close off. Not only can this drastically improve the appearance of surface redness in the skin, but it can also treat brown spots caused by sun damage or acne.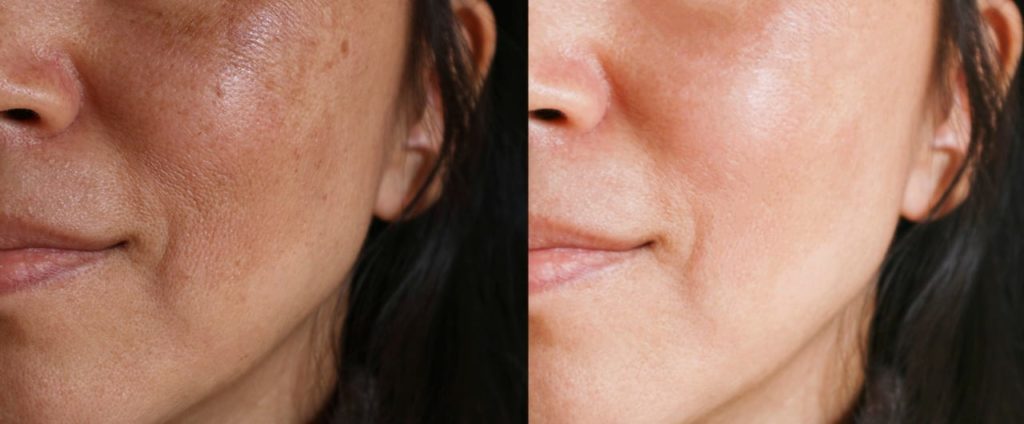 Good to Know
The main molecules that absorb light are hemoglobin, melanin, and water.
When hemoglobin absorbs light, the light technologies start working on blood vessels, causing vascular coagulation. Vessels "collapse" and the movement of blood through them stops.
The interaction with melanin through the light emitted by the Lumecca nozzle allows you to eliminate areas where pigmentation is impaired. As a result, collagen synthesis is accelerated, the tightening effect is manifested, fine wrinkles are smoothed out and pores are narrowed. Technical parameters give an advantage in the fight against age spots of any origin at any depth. During the procedure, the skin does not overheat, the built-in cooling system with a sapphire tip makes the procedure almost painless.
Lumecca vs. other IPL treatments
Lumecca IPL photofacial Advantages
Unlike other IPL treatments, the beam of light of Lumecca can affect large areas of the skin. Lumecca reduces the treatment time of the problem area, thanks to the large spot size and high pulse frequency.
Treatment of skin type
Standard IPL:
This is usually not advisable on darker skin types. The darker the skin the more difficult it is to treat the melanin.
Lumecca:
This has advanced technology which allows for effective treatment for both light and dark skin. Its range of treatment is also wider; from facial pigmentation, superficial vessels, skin texture, photo damage.
During treatment
Standard IPL:
You'd expect some stinging sensation and mild sensitivity in the area being treated
Lumecca:
Lumecca has a strong sapphire cooling that tip that helps protect the surface of the skin and ensure maximum safety and comfort. Besides the duration of a Lumecca treatment is usually significantly lesser than the standard one.
Number of sessions
Standard IPL:
You'd typically require at least 4-6 sessions for complete photorejuventation
Lumecca:
Its advanced technology allows you to get the same results in as little as 1-2 sessions.
Lumecca solves many skin rejuvenation problems with a special xenon lamp delivering 40% of the total pulsed energy in the 500-700nm range (hemoglobin and melanin sweet spot), while standard IPLs provide only 10-15%.
High efficiency in the treatment of vascular and pigmented lesions
Complete photorejuvenation in just 1 or 2 treatments versus 4-6 treatments with standard IPLs
Shorten clinical treatment time with a high pulse repetition rate
A durable cooling sapphire tip ensures a painless experience.
High pulse repetition rate at all settings.
6Maximum power 3300W.
What skin conditions can IPL photofacial treat?
IPL can improve the signs of aging on the face, neck, chest, arms, and hands. It has the ability to treat a wide variety of skin imperfections, including:
Sun damage
Fine lines and wrinkles
Red and brown spots
Diffuse redness
Rosacea
Large pores
Uneven skin texture
Telangiectasias or spider veins
Lumecca IPL can be used on all areas of the body. The most common treatment areas are areas that are regularly exposed to the sun. These often include the face, neck, décolleté, legs, hands, and forearms.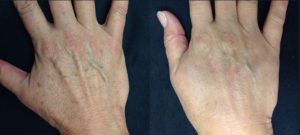 What are contraindications for IPL?
Preparation for the IPL photofacial procedure
Recent sunburn
Unprotected sun exposure or solarium use 4 weeks prior to treatment
Pregnancy
History of seizures
Severe dermatitis or eczema (within the treatment area)
Active infections
Roaccutane use in the last 6 months
Herpes 1 or 2 (within the treatment area)
Very dark skin
Removing hair by the root e.g. waxing or tweezing 4 weeks prior to treatment (hair removal only)
Photo sensitizing medications are best avoided
Avoid direct, excessive sun exposure or tanning for a month before treatment. Do not use self-tanners 2 weeks before the procedure. Contact lenses must be removed before the procedure. If the Radiesse procedure was performed or APTOS threads were placed, then this procedure should be done no earlier than 1 month after the previous procedure.
If you had procedures involving fillers based on hyaluronic acid, BTA, and threads, then this procedure should be considered no earlier than 2 weeks after the previous ones. Exclude creams with acids 2 weeks before the procedure, and external retinoid 1 month before.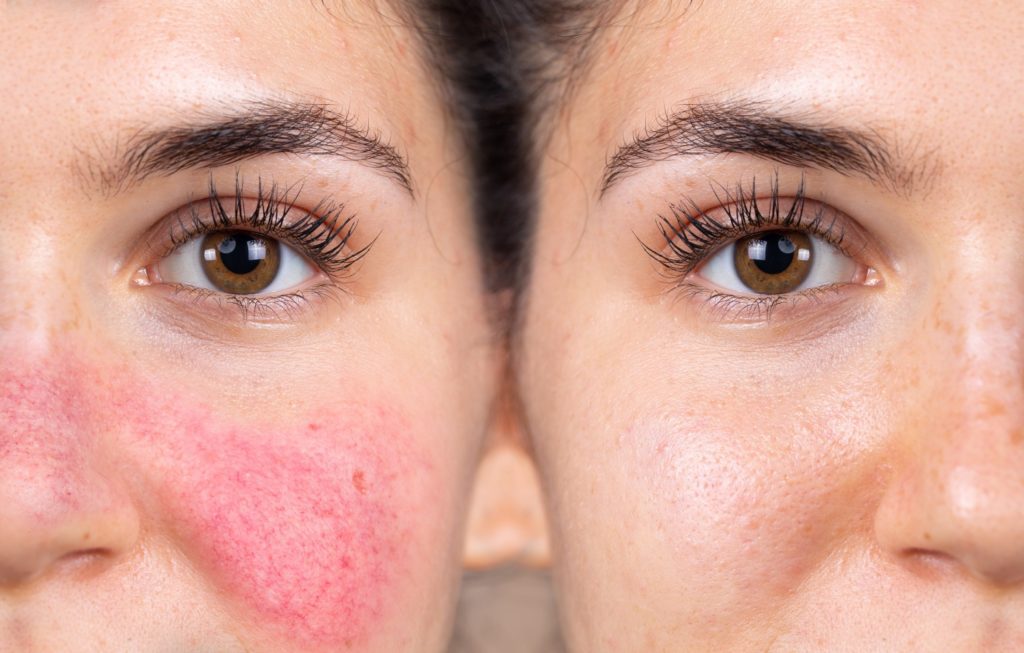 What to expect during the LUMECCA IPL procedure?
Recommendations during the recovery period
During the Lumecca IPL photofacial treatment, you will see a bright flash of light that feels like a light, firm touch. Redness and a slight warming of the skin are normal reactions after the procedure and usually disappear within an hour.
IPL photofacial Aftercare
Apply Sunblock
NO Sun Exposure for two weeks after treatment
IPL photofacial Recovery period
Immediately after the procedure, erythema (redness) and swelling of the skin are possible, which are temporary. In rare cases, swelling and hyperemia can persist for several days. After the procedure for removing age spots, the pigment darkens, there may be an increase in darkening within 24 hours. 
The next week, the pigment is fragmented, and exfoliation occurs from 7 to 10 days. After the procedure for removing the vessels, hyperemia, and swelling can also be observed, the vessels can either brighten or darken. The recovery period is 10-14 days.
Mild redness for two to five days following treatment
Brown spots darken and rise to the skin surface and flake off – do not touch or pick the skin
What to expect after IPL treatment?
Elimination of small and large age spots (the first ones disappear literally from the first session), as well as freckles
Resorption and lightening of stagnant post-acne spots
Smoothing fine lines
Reduction of deep structural furrows and folds (nasolacrimal, nasolabial)
Lifting of sagging skin in the upper and lower thirds of the face
General compaction and strengthening of soft tissues
Narrowing and cleansing of pores
Regulation, normalization and stabilization of sebum production – sebum
Elimination of signs of photoaging – dehydration, thinning, dullness of the skin
The results of the treatment depend on the characteristics of the patient's body, the current and future state of health, on compliance with the doctor's recommendations.